Meet the Veterinarians & Team of Pinebrook Animal Hospital! We're pleased to provide exceptional vet care for your pets!
Get To Know Our Team
We are solely dedicated to your pet's care!
We look forward to getting to know you, and we hope you'll take the time to scroll down and get to know us.
Dr. Britt Dubil
D.V.M
Dr. Britt Dubil has been in veterinary practice for over 20 years. She is a Utah native who received her DVM from Colorado State University in 1997 and completed her 14-month internship training at the Oradell Animal Hospital in Oradell, New Jersey. She has practiced at emergency hospitals and small animal clinics in New Jersey, Connecticut, California, and Sandy, Utah.
Dr. Jillian Burchett
D.V.M
Dr. Jillian Burchett is a Park City local, who loves to do all the "Park City" things: biking, hiking, camping, skate and downhill skiing with her family. Dr. Burchett is a graduate of Washington State University. Her human family consists of her husband Dominick, and five children, 4 girls and 1 boy. The Burchett critter clan includes 2 dogs, 2 cats, 2 leopard geckos, 2 guinea pigs, 1 hedgehog, 1 bearded dragon, 1 frog, several fish, and 8 chickens. Her passion is building long-term relationships with her clients and patients that emphasize the family-style feel of our practice.
Dr. Sophia Catania
D.V.M
Dr. Sophia Catania is a veterinarian who has been practicing mixed animal medicine in Charlotte, NC since graduating from Ross University School of Veterinary Medicine in 2021. Her clinical year was completed at the University of Minnesota, where she gained invaluable experience in providing comprehensive care to a variety of animals, including dogs, cats, goats, and equines. Although born and raised in Upstate New York, Dr. Catania has always considered Utah her second home, having skied at Park City Mountain since she was a toddler. As her family has been gradually relocating full-time to the area, she is excited to make Park City her primary residence. In her spare time, Dr. Catania enjoys hiking, walking, skiing, lifting weights, cooking, reading, and spending time with family. She is a proud owner of a dog named Kai, who hails from the island of St. Kitts, and a cat named Kiara, whom she adopted from North Carolina. Dr. Catania is enthusiastic about bringing her passion for animals and dedication to their well-being to the dogs and cats of Park City, Utah. Her ultimate goal is to ensure the health and happiness of her patients and their owners. She looks forward to meeting you and your furry friends!
Dr. Allie McPhee
D.V.M
Dr. McPhee obtained a Bachelor of Equine Science at Colorado State University and attended the University of Utah for Biology and Chemistry while applying for veterinary school. She then moved to sunny Southern California to attend veterinary school at Western University of Health Sciences. After graduating, Dr. McPhee completed a small animal rotating internship at California Veterinary Specialists and stayed on as a staff doctor in the Emergency Department and Surgical department. She always knew that she wanted to come back to Utah, working in specialty and ER for the last 8 years in the Salt Lake Valley and surrounding states. Her interests include toxicities, emergency treatment of immune-mediated and metabolic disorders, and emergency soft tissue surgery.
Dr. McPhee was lucky enough to grow up in Park City, Utah, and married a born and raised Parkite. She loves the mountains and all that they bring: hiking, mountain biking, and working out are some of her hobbies when she isn't with her new husband and son. She loves to travel and spends as much free time as possible in Baja, California in the desert and on the beaches. Dr. McPhee is thrilled to be able to serve her hometown and see so many familiar faces from over the years.
Rachel
Assistant Hospital Manager
Rachel was born and raised in Texas where she graduated from the Vet Tech Institute of Houston in 2011. She has almost 10 years of experience as a Licensed Vet Tech and recently moved to Park City from Austin with her boyfriend and two dogs, Olive and Ruby. Rachel has a strong interest in surgery and ultrasonography, and in her spare time, she loves to ride her mountain bike, hike with the pups and spend time outdoors.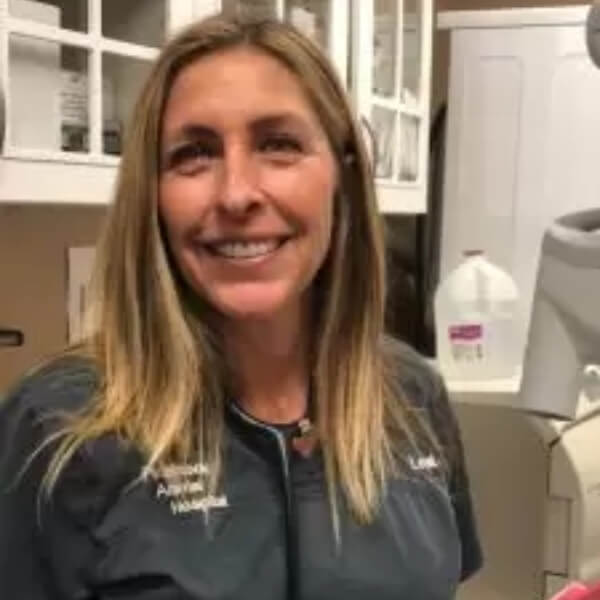 Lesli
Veterinary Technician
Lesli has worked in the veterinary field for over 15 years and is passionate about animal care and welfare. She is a Utah native and enjoys hiking, scuba diving and traveling. She spends some of her time outside the hospital doing rescue work with the Rocky Mountain Great Dane Rescue, and currently has two Great Danes, one Mexican street dog, three cats, and two horses.
Kambrie
Veterinary Technician
Kambrie has been with Pinebrook Animal Hospital since March of 2021. She has over 5 years of experience in veterinary medicine. Kambrie has a special interest in exotic pets and wildlife and aspires to work in a zoo someday. She will be starting school to earn her degree to become a certified veterinary technician through San Juan College. Kambrie spends her time outside of the hospital volunteering with Great Basin Wildlife Rescue, hiking, fishing, and spending time with her 2 dogs, 2 cats, ducks, chickens, rabbits, tarantula, and tortoise.
Audrey
Veterinary Technician
Bio coming soon!
Monica
Veterinary Technician
Monica was born and raised in the Bay Area of CA. She has a vast background in the work world but decided to turn her love of medicine & animals into a career back in 2010. Her tech experience ranges from Post-operative care in specialty medicine (CA), shelter medicine (CA & WA), general medicine (CA, WA), & caring for six dressage horses (WA).
She moved her daughter and son, 11yr old Terrier mix, 7yr old & 5yr old felines, out to UT in the summer of 2021. She loves to spend her spare time reading, driving, hiking, and so much more.
Maygan
Lead Client Care Coordinator
Maygan is a native of Utah and has enjoyed working in the vet med world for the last 3 years. Initially working at an emergency veterinary hospital, she loved the hustle and bustle. She plans on obtaining her vet tech degree and has hopes of eventually making her way to working in a zoo. Exotic animals are her main interest in the vet med world. Maygan lives at home with her 3 cats (Zoi, Luna, and River), 1 bunny (Twitch, who is 9 years old!), and 1 dog (Addie). She has her own little zoo at home as most of her animals have health issues or behavioral issues that require daily things being done. In her free time, she loves hiking, camping, and reading, but most of all, she loves spending time at home with her sweet fur babies.
Erin
Client Care Coordinator
Erin has been with Pinebrook shortly after its inception in 2012. As a local animal lover, Erin is an avid bird watcher and wildlife advocate. Erin shares her home with three dogs; Jack, Birdie, and Friday, and one adorable rescued Bengal cat, Sydney Bristow. She prides herself on her compassion and work ethic and expertly shares these skills with our clients.
Ali
Client Care Coordinator
Bio coming soon!
Karianna
Client Care Coordinator
Bio coming soon!
Larry
Office Mascot
Larry is a 2-year-old Labrador Retriever. After not making the cut at Guide Dogs for the blind, Larry decided to focus his skills on belly rubs, handshakes, and napping. Most days you can find Larry in the office offering moral support to the staff of Pinebrook Animal Hospital. Outside of the office, Larry enjoys walks, snuggling, and eating.