Meet the Veterinarians & Team of Pinebrook Animal Hospital! We're pleased to provide exceptional vet care for your pets!
Get To Know Our Team
We are solely dedicated to your pet's care!
We look forward to getting to know you, and we hope you'll take the time to scroll down and get to know us.
Dr. Britt Dubil
D.V.M
Dr. Britt Dubil has been in veterinary practice for over 20 years. She is a Utah native who received her DVM from Colorado State University in 1997 and completed her 14-month internship training at the Oradell Animal Hospital in Oradell, New Jersey. She has practiced at emergency hospitals and small animal clinics in New Jersey, Connecticut, California, and Sandy, Utah.
Dr. Jillian Burchett
D.V.M
Dr. Jillian Burchett is a Park City local, who loves to do all the "Park City" things: biking, hiking, camping, skate and downhill skiing with her family. Dr. Burchett is a graduate of Washington State University. Her human family consists of her husband Dominick, and five children, 4 girls and 1 boy. The Burchett critter clan includes 2 dogs, 2 cats, 2 leopard geckos, 2 guinea pigs, 1 hedgehog, 1 bearded dragon, 1 frog, several fish, and 8 chickens. Her passion is building long-term relationships with her clients and patients that emphasize the family-style feel of our practice.
Dr. Kirsten Jensen
D.V.M
Dr. Kirsten Zelda Jensen obtained her Doctorate of Veterinary Medicine as a Utah resident through the Washington State University College of Veterinary Medicine WIMU Program. Dr. Jensen was born and raised in Kearns and completed her undergraduate education from both Salt Lake Community College and Utah State University. Her passions and professional interests include animal behavior, cardiology, neurology, internal medicine, dermatology, the Human-Animal bond, and Pit Bill advocacy. In her free time, Dr. Jensen likes to be with her family, go on adventures with her rescued Pit Bull Talia, cross-stitch, play video games, and be involved in rescue organization events.
Dr. Erin Johnston
D.V.M
Dr. Johnston is a Southern California native who moved to Utah 4 years ago to join the growing community of veterinary emergency and specialty care. As a true lover of the snow, and outdoors, Utah fits well for pleasure outside the workplace. She has worked in primary practice and emergency medicine, most enjoying the medicine cases and client connections offered. Dr. Johnston believes being a veterinarian is a blessing and truly feels joy and gratitude serving the communities in which she practices. Her career so far has had her in the mountains of Colorado, hot as heck San Antonio, Texas, Virginia on the east coast, and last but not least, the Central and Northern Coast of California, eventually coming to Utah from Culver City, California. She has worked with marine mammals, exotics, dogs, and cats. She has a 7-year-old Monterey Terrier who smiles, Poppy, and a spicey yet snuggly orange tabby cat, Julep, Dr. Johnston calls her "girls". Serving her community through her Mountain Life Church family, fills her soul, and she looks forward to each season!
Rachel
Assistant Hospital Manager
Rachel was born and raised in Texas where she graduated from the Vet Tech Institute of Houston in 2011. She has almost 10 years of experience as a Licensed Vet Tech and recently moved to Park City from Austin with her boyfriend and two dogs, Olive and Ruby. Rachel has a strong interest in surgery and ultrasonography, and in her spare time, she loves to ride her mountain bike, hike with the pups and spend time outdoors.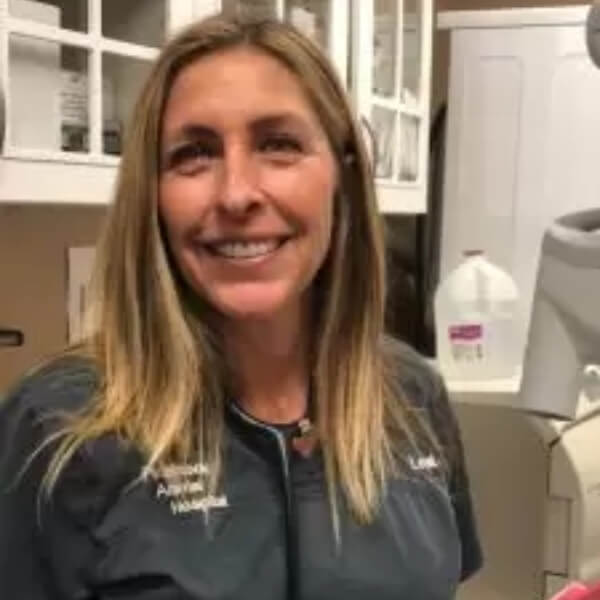 Lesli
Veterinary Technician
Lesli has worked in the veterinary field for over 15 years and is passionate about animal care and welfare. She is a Utah native and enjoys hiking, scuba diving and traveling. She spends some of her time outside the hospital doing rescue work with the Rocky Mountain Great Dane Rescue, and currently has two Great Danes, one Mexican street dog, three cats, and two horses.
Kambrie
Veterinary Technician
Kambrie has been with Pinebrook Animal Hospital since March of 2021. She has over 5 years of experience in veterinary medicine. Kambrie has a special interest in exotic pets and wildlife and aspires to work in a zoo someday. She will be starting school to earn her degree to become a certified veterinary technician through San Juan College. Kambrie spends her time outside of the hospital volunteering with Great Basin Wildlife Rescue, hiking, fishing, and spending time with her 2 dogs, 2 cats, ducks, chickens, rabbits, tarantula, and tortoise.
Audrey
Veterinary Technician
Bio coming soon!
Monica
Veterinary Technician
Monica was born and raised in the Bay Area of CA. She has a vast background in the work world but decided to turn her love of medicine & animals into a career back in 2010. Her tech experience ranges from Post-operative care in specialty medicine (CA), shelter medicine (CA & WA), general medicine (CA, WA), & caring for six dressage horses (WA).
She moved her daughter and son, 11yr old Terrier mix, 7yr old & 5yr old felines, out to UT in the summer of 2021. She loves to spend her spare time reading, driving, hiking, and so much more.
Morgan
Veterinary Technician
Bio coming soon!
Maygan
Lead Client Care Coordinator
Maygan is a native of Utah and has enjoyed working in the vet med world for the last 3 years. Initially working at an emergency veterinary hospital, she loved the hustle and bustle. She plans on obtaining her vet tech degree and has hopes of eventually making her way to working in a zoo. Exotic animals are her main interest in the vet med world. Maygan lives at home with her 3 cats (Zoi, Luna, and River), 1 bunny (Twitch, who is 9 years old!), and 1 dog (Addie). She has her own little zoo at home as most of her animals have health issues or behavioral issues that require daily things being done. In her free time, she loves hiking, camping, and reading, but most of all, she loves spending time at home with her sweet fur babies.
Erin
Client Care Coordinator
Erin has been with Pinebrook shortly after its inception in 2012. As a local animal lover, Erin is an avid bird watcher and wildlife advocate. Erin shares her home with three dogs; Jack, Birdie, and Friday, and one adorable rescued Bengal cat, Sydney Bristow. She prides herself on her compassion and work ethic and expertly shares these skills with our clients.
Jess
Client Care Coordinator
Bio coming soon!
Holly
Client Care Coordinator
Bio coming soon!
Ali
Client Care Coordinator
Bio coming soon!
Larry
Office Mascot
Larry is a 2-year-old Labrador Retriever. After not making the cut at Guide Dogs for the blind, Larry decided to focus his skills on belly rubs, handshakes, and napping. Most days you can find Larry in the office offering moral support to the staff of Pinebrook Animal Hospital. Outside of the office, Larry enjoys walks, snuggling, and eating.