Vet Care in Park City, UT
Pinebrook Animal Hospital is proud to offer the most technologically advanced services available, from in-house laboratory that takes 15 minutes, to state-of-the-art Fuji digital x-rays.
Veterinary Services
We offer these cutting-edge diagnostics to better serve you and help your pet live the longest, fullest, most healthy life possible. That is our priority at Pinebrook for your furry family member.
Pet Wellness
Health begins with annual wellness checks. Your pet can't tell us what's wrong. But routine physical exams can help your veterinarian detect any problems or diseases you might not have otherwise picked up on, including heart murmurs, tumors, enlarged organs, cataracts, ear infections, dental and gum disease, skin issues, or allergies.
Pet Hospice Care
Our team is here to work with you to ensure your terminally ill pet stays as comfortable as possible. Enjoy the best quality of life with whatever cherished time is left with your beloved companion.
Pet Dentistry
We perform not only periodontal probing to find problem areas, but also take digital dental x-rays for a complete assessment. Digital dental x-rays help us assess your pet's oral health.
Pet Euthanasia
Saying goodbye to your pet can be extremely difficult. The process can be emotionally and mentally draining. We don't want you to be alone at the end stages of a pets' life, and we promise to do everything we can to make it easier on you and your pet.
Pet Cardiology
We offer screening tests for heart murmurs, congenital abnormalities, and cardiac diseases that show up later in life, as well as specific cardiac tests such as echocardiograms and electrocardiograms.
Pet Internal Medicine
Your pet's health includes having healthy functioning internal organs. These organs can become diseased or damaged due to injury or hereditary factors. Veterinary internal medicine is involved with the diagnosis and treatment of your pet's internal organs.
Pet Pharmacy
We want you to get your medications and products from reputable, trusted suppliers, so we have stocked our pharmacy with a huge inventory of quality brands and products that are properly stored under optimal conditions.
Pet Puppies & Kittens
Congratulations on getting your new puppy or kitten. We hope that they provide many years of fun, friendship, loyalty, and love. The veterinarians and staff at Pinebrook Animal Hospital are here to help you as you start on your relationship with your newest family member.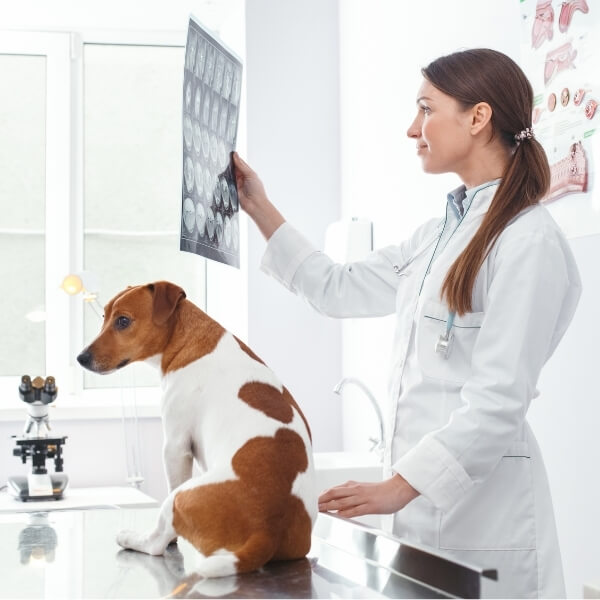 Pet Radiology
With the advances in digital x-ray technology, we can now manipulate the digital images that we take off a pet's systems to see what is wrong. This has allowed us to detect things like hairline fractures and orthopedic conditions that were previously not visible.
Pet Spay & Neuter
Spaying and neutering can protect your pet from serious health and behavioral problems later in life. It also helps control the stray animal population. Spayed and neutered pets live healthier and longer lives!
Pet Surgery
Our veterinary team takes every precaution so that your pet receives the highest-quality care. We perform a physical exam and pre-anesthetic testing before surgery, monitor your pet during surgery, and provide appropriate pain medication to keep your pet comfortable during recovery.
Pet Ultrasound
Ultrasonography is a type of diagnostic technique that uses ultrasound waves to produce an imaging study. This means that when we perform ultrasonography, we can see internal images of the patient's body.
Pet Behavior Counseling
Pets can have a wide variety of behavioral issues, from simple housetraining problems to severe anxiety and aggression issues.
Telemedicine
Telemedicine enables our doctor to provide remote veterinary care and support. 
Teletriage
Teletriage appointments allow our team to assess patient conditions virtually and based on owner reports.